XTB Ratings
Name: XTB
Description: XTB is a CFD and forex broker headquartered in Poland and listed on the Warsaw Stock Exchange (WSE:XTB) valued at over $1bn.  XTB was founded in 2003 and offers forex, indices, commodities, ETF and stock CFD trading. XTB has historically used celebrity endorsements to promote it's brand including Jose Mourinho, Conor McGregor, Joanna Jędrzejczyk and Jiří Procházka.
Summary
XTB, are a decent all-round trading platform and a good choice for most small-to-medium sized CFD traders. They are publically listed in Poland and offer, competitive spreads on a fairly wide range of markets.
Pros
Publically listed
Mulitple platform choices
Innovative order types
Pricing

Market Access

Online Platform

Customer Service

Research & Analysis
Comments Rating
( reviews)
XTB Expert Review
In this review we:
Give our ratings based on their nearest peers
Tell you what we think of them after testing them with real money 
Highlight the key costs, facts and figures of their accounts
I've used XTB on and off now for around 5 years, and one thing to note is that they are a reactionary broker. In that, they keep adding and removing features based heavily on client demand. One feature they used to have which I thought was brilliant, was the option to build your own baskets of assets. Which is essentially building your own ETF to trade multiple currency pairs, stocks of indices in one go. You could even assign your own custom weighting to which assets were included. Unfortunately, no-one used it so they discontinued the feature. Which is a shame, but on the plus side, they do keep adding features to the platform as and when customers need them.
When we do CFD broker reviews, we talk to the people at the brokerages themselves, trade live with real money and highlight some key features that make them stand-out. So we also spoke to Josh Raymond, one of the directors who over the course of a 15-minute video chat took us through some of the key features on the platform. I would have suggested we meet in person for an update on what's new but, last time I was due to meet Josh for a coffee in Canary Wharf, he forgot and didn't turn up. I can, however, recommend Notes for a bit of people watching.
Highlights
The key things to focus on when considering trading with XTB are:
They have their own proprietary trading platform. When I interviewed Omar Arnaout, the XTB CEO Omar Arnout he said "I'm really proud of our platform and honestly believe it's one of the best in the market." Rightly so.
They really push client education, XTB won "Best Trading Platform Education" in our 2023 awards (although they didn't show up to collect the trophy, they never do). You can read their Q&A on forex education here.
Customer service is paramount. Omar said that "first and foremost is the customer service". I really agree with this as I think it's important to have a few different trading accounts (diversify, diversify, diversify) and you'll trade more with the broker that treats you best.
Awards
In our annual awards, XTB has won:
Best Trading Platform Education – 2023
Best Forex Broker – 2021
Best Crypto Broker – 2019 & 2018
News, analysis and trading ideas
All brokers have news, technical analysis, economic announcements and fundamental data. Most even have RanSquark (where your computer shouts at you every time there is a market figure), but XTB also has an integrated dealing ticket so you can trade quickly from the analysis. You can see below in their recent Gold analysis. You can either place a market order to go long or short at your saved standard lot size or bring up a dealing ticket to work a limit.
Post-trade analysis
See a breakdown of what markets and trades you make or lose money.
XTB was one of the first brokers to introduce post-trade analysis, and this sits nicely alongside their ethos of trading to educate their clients rather than churn and burn them. You can see a recap of your previous trades in your account settings. This gives a very visual representation of which trades you make and lose money on. This is a really interesting feature because, as we all know, it's hard to make money trading. But oddly enough it's not that hard to pick winners.
Picking on Josh again, we highlighted an article he wrote (The truth about whether trading is actually winnable) way back in 2014, showing that the profitable trades were around 60%. It's just that the losses were larger than the profits. This suggests that it is a post-trading strategy that is the issue. Not picking trades. So, by using this section to evaluate which trades you most frequently win on you should be able to improve your overall trading strategy.
Account base currencies
You can change your base currency by setting up different sub accounts.
This may not seem like a big deal on the surface, but it's actually a really nice feature. One thing traders never really take into account when trading international markets is currency exposure.
Even when trading Forex, traders tend to just look at what is happening on the chart and not the overall economic climate. Trading profits are hugely affected by currency exposure and in some cases can wipe out profits. Also, as tight as deliverable foreign exchange rates are becoming they are still always never below 0.5%.
So if you are in the UK with GBP on account and trading US products your P&L will be in USD. This will then have to be converted into GBP before you can withdraw (unless you want to be at the mercy of your banks tourists rates (which you don't)). But, if you go to your "My Accounts" page you can open up sub accounts in GBP, USD, or EUR. So, if you have a strategy that mainly relies on non-local currencies you can reduce your FX fees and currency exposure.
You can also change the currency in the dealing ticket, between local and base currency, which can give you more control over your position exposure. This is particularly helpful, when fx markets are volatile.
Chart grids
You can get an instant macro market overview with grid charts.
When I first started off as a stockbroker many decades ago we used this pricing system called QTS. It's long gone now, but it had this great feature where you could get a grid view of a market with a single click. It was a great default view so you can instantly see what was going up or down without having to have multiple screens up.
I know you can set this up manually on most other brokers, but other than CMC, I don't think it's that easy anywhere else. XTB, have a really nice feature where you can see all your open charts as a grid. A very handy visual overview of what is going on.
Plus, if you've got a pending order you can see the levels on the chart. When I took the below screenshot I had a working stop entry in US500 (top right).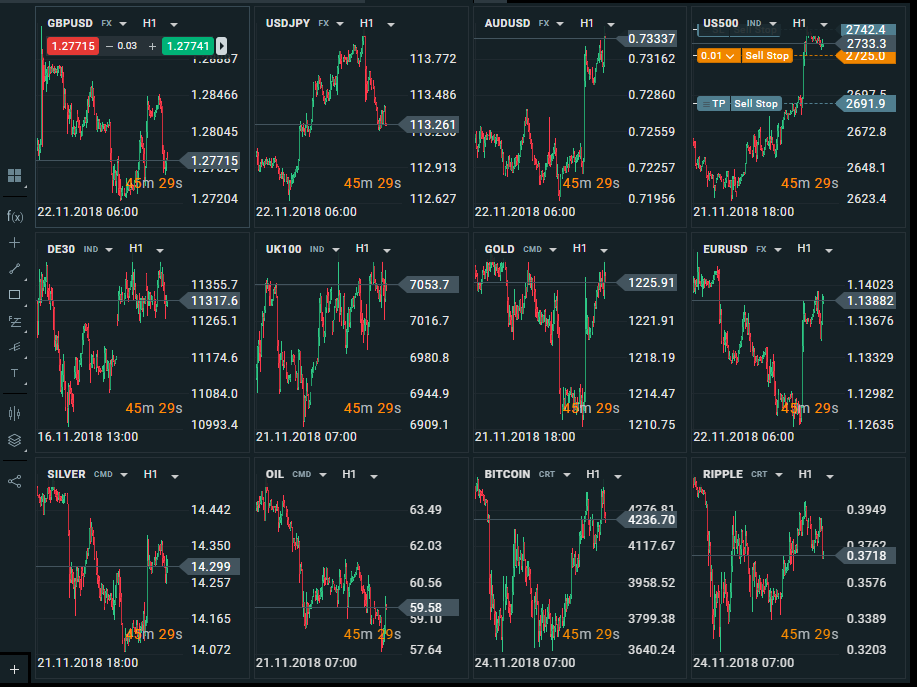 Trade from the charts
Add market orders, stops entries, limits and stop losses by clicking directly on the charts.
A lot of other brokers let you trade from the charts. In fact, last week when we did a video demo of Spreadex's platform where we highlighted that you can move your stops from the chart.
Which is an almost essential feature. Because let's face it you either place stops at support and resistance levels or base them on how much you want to win or lose. So it's quite nice to set your P&L limits then move your orders based on what the chart looks like.
However, what is unique to XTB (as far as I know) is the ability to place stop entries, stop losses and limits straight onto the chart.
The first click is where you want to buy, second your stop loss and third your limit. You basically draw your trade on the chart and it is created in the dealing ticket.
Closing off positions
You can close all, profitable or losing trades in one go
This is a nice feature to end off our XTB review. When you are done for the day, or popping off to the shops, you can select what trades you want to close.
It's really annoying when you have to click on twenty different trades to close them out when you want to be flat. So on the XTB "Open Positions" tab you can choose to close either all your trades or just the duds that are losing. Or, you can bank your profits by closing all the winners and leave your losers to either get stopped or reverse. But I shall leave it to you to decide if that is a sensible trading strategy.