XTB Review: XTB Brokers offers forex and CFd trading through their X Trade platform. XTB was originally founded in Poland and is listed on the Warsaw Stock Exchange. XTB as well as offering trading on major indices and forex pairs also have a very comprehensive Crypto CFD trading offering.
Visit XTB Brokers
XTB Review Good Points
Listed on the Polish Stock Exchange

Big crypto offering

Excellent trading platform
XTB Review Bad Points
Headquarters in Warsaw, Poland not London

No long term investment products on offer
XTB Client Reviews
Don't just take our word for it. Here's what XTB traders have to say about the broker. If you are a client you can see how XTB performed in our Broker of the Year Awards.
XTB
Average rating:
10 reviews
Apr 26, 2019
The best broker ever
From my perspective, XTB is the best broker in Europe.
xStation is amazing.
Other brokerage houses should learn from XTB.
Feb 22, 2019
Great service
Online Platform (out of 5 stars):
5
Customer Service (out of 5 stars):
5
Fees & Pricing (out of 5 stars):
5
All in all, good trading conditions and would recommend XTB again.




Online Platform 5/5


Customer Service 5/5


Fees & Pricing 5/5


Nov 29, 2018
Super
Online Platform (out of 5 stars):
5
Customer Service (out of 5 stars):
5
Fees & Pricing (out of 5 stars):
4
Full marks for platform and customer support, can honestly say xstation is my favourite platform out of the 4-5 I've used over the years. Some of the spreads on the markets I trade can be quite high but otherwise I'm very happy to trade with them and recommend them.

Trading Platform: 5/5
Customer Service 5/5
Spreads & Pricing 4/5
Jun 4, 2018
XTB review
Online Platform (out of 5 stars):
5
Customer Service (out of 5 stars):
5
Fees & Pricing (out of 5 stars):
4
I initially traded cryptocurrency with XTB and lost money, not because of XTB but because I wasn't clued up on cryptocurrency. Reed Sayer from XTB has since given me lots of useful guidance. Due to my experience of cryptocurrency that is something I will never trade in again, but I am now trading forex. Reed has provided me with lots of guidance, given me links to useful information and helped me tremendously to gain knowledge of the platform and of forex in general. He is always helpful. I would highly recommend XTB as a broker. I'm sure all the account managers are helpful, but my experience is with Reed and I am very impressed.


Trading Platform: 5/5

Customer Service: 5/5

Spreads & Pricing: 4/5
May 15, 2018
Great service - never been let down
Online Platform (out of 5 stars):
5
Customer Service (out of 5 stars):
5
Fees & Pricing (out of 5 stars):
4
Came across XTB late 2016 and have been using them as my primary broker for the past 8 months or so. Probably their best feature is the platform itself, as it's got so many decent features and is always reliable. They aren't the cheapest broker but I don't mind paying slightly higher spreads for the quality of service and execution. The whatsapp group I'm in has saved my bacon a fair few times as well as they keep you up to date with data reports etc and they come straight to my phone. Would very happily recommend


Trading Platform: 5/5

Customer Service: 5/5

Spreads & Pricing: 4/5
May 15, 2018
Good trading conditions and add ons
Online Platform (out of 5 stars):
5
Customer Service (out of 5 stars):
4
Fees & Pricing (out of 5 stars):
5
Tried XTB after a bad experience with another provider - spoke to an employee on the phone who provided me with a lot of useful information plus an offer (alerts service) when opening my account. In my previous experience I had no one to call and emails weren't responded to in a timely manner.



Whole from call to trading process was handled professionally plus I was invited into their offices in London for one on one training and other events.



All in all, good trading conditions and would recommend XTB again.

Trading Platform: 5/5

Customer Service: 4/5

Spreads & Pricing: 5/5
May 15, 2018
Fantastic broker
Online Platform (out of 5 stars):
5
Customer Service (out of 5 stars):
5
Fees & Pricing (out of 5 stars):
4.5
My first encounter with XTB was at a forex show in Hammersmith last year and honestly they were the best stall I went to. They were really friendly and approachable and they invited me to come to their office for the intro to trading course. I went to their office in Canary Wharf and learnt quite a lot from Akshay and Andre who delivered the presentation fantastically although I only came to the platform demo! View from the building wasn't half bad either!
I am currently using xstation which is honestly the best platform I've used in my 18 years of trading compared to the crap you find elsewhere!
Overall the service is great! My account manager Reed always hooks me with freebies such as whatsapp alerts from one of their market analysts "DC". Spreads are fairly decent and overall I'm happy trading here. Highly recommend them


Trading Platform 5/5

Customer Service 5/5

Spreads & Pricing 4.5/5
May 3, 2018
Nice UK Broker
Online Platform (out of 5 stars):
4
Customer Service (out of 5 stars):
5
Fees & Pricing (out of 5 stars):
5
Went to their offices for the intro to trading course and it was really well run by David, their analyst. He showed me technical analysis as well as a few basics. Felt they would push the boat out for me, even though i am a small time trader. happy so far.

Trading Platform: 4/5

Customer Service: 5/5

Spreads & Pricing: 5/5
May 3, 2018
Perfect broker if you are looking for support and education
Online Platform (out of 5 stars):
5
Customer Service (out of 5 stars):
5
Fees & Pricing (out of 5 stars):
4
Being new to trading and having a bad experience with Pluss500 I decided it was time to find a new broker. I was very pleased that you can actually visit their offices in Canary Wharf for the variety of free sessions that they offer, both at the basic and intermediate level. I booked myself an introduction session and I was really impressed by Andre and Akshay's patience and level of expertise. I was able to walk away with enough knowledge to put my trading into Practice. What I was most impressed with however was that you can actually open a live account with them after with no obligations to start trading straight away because even after the session I wasn't that comfortable using real money, I knew it'll probably take another couple weeks of practice. What I did get though when I opened live was access to a senior account manager, Nathan who was able to help me with my trading plan. Andre was also kind enough to give me a non expiry demo account with one week of WhatsApp alerts from their market analyst David. Their pricing is very good, I can't give 5 stars because I believe a brokers pricing could never be perfect but overall a very good broker and I would recommend anyone to trade with them, especially if you are new to trading. They take care of their clients, well so far they have lol

Trading Platform: 5/5

Customer Service: 5/5

Spreads & Pricing: 4/5
May 3, 2018
Very good broker
Online Platform (out of 5 stars):
5
Customer Service (out of 5 stars):
5
Fees & Pricing (out of 5 stars):
5
Been trading with XTB since 2016. Honestly think they are one of the best brokers around and I've been with a few. Spreads are tight and platform is superb. Best thing is the customer service, which is available 24hrs a day and I am always welcome to go to their offices in Canary Wharf, which I did last night for a TA course. Only downside I would say is their spread on some markets in out of hours can be a little wide. But they do quote on weekends which is a plus. So I would say 5 stars.

Trading Platform: 5/5

Customer Service: 5/5

Spreads & Pricing: 5/5
XTB Brokers Key Features
XTB, founded in 2002 is one of Europe's leading brokers. XTB provide CFD and Forex trading on over 1,500 instruments and have (as a group) over 21,000 active clients.
Regulated by the FCA, have 12 offices globally including the UK.  XTB is headquartered in Poland and listed on the Warsaw Stock Exchange WSE:XTB.


Visit XTB



XTB Reviews
XTB Client Reviews
XTB Expert Review
Exclusive Interview
Omar Arnaout, XTB CEO
XTB Platforms
xStation 5, MT4
XTB Updates
Latest XTB News, Views, Reviews & Guides
Min Deposit
$250
Account Types
CFDs, Forex
Spread Types
Fixed and variable
Funding Methods
Cards, bank transfer, PayPal, Skrill, Neteller
Customer Support
Phone, email and livechat
Execution Type
OTC
UK 100 Pricing
1 point
Germany 30 Pricing
0.9 points
Wall Street Pricing
2 points
Bitcoin Pricing
1%
Ether Pricing
1%
EURGBP Pricing
0.1 points
EURUSD Pricing
0.2 points
GBPUSD Pricing
0.1 points
Gold Pricing
0.1 points
Oil Pricing
3 points
Stock Pricing
0.16%
FCA Regulated
Yes - See status
Year Established
2002
Active Clients
21,000
Markets available
15,000+
Retail Accounts
Yes
Professional Accounts
Yes
Listed PLC
Yes on WSE See share price

Country Founded
Poland
Inactivity Fee / Withdrawal fee
None / free above $100
Overnight Funding Rates
2.5% +/- Libor.
Educational Material
Yes
Office Locations
13
XTB Alternatives

How does XTB stack up vs alternative brokers?
XTB Versus IG
XTB Versus ETX Capital
XTB Versus Core Spreads
XTB Versus Plus 500
XTB Versus Spreadex
XTB Versus Saxo Capital Markets
XTB Versus City Index
XTB Versus Forex.com
XTB Versus Pepperstone
XTB Versus eToro
XTB Versus ayondo
XTB Versus CMC Markets
XTB mobile trading
Yes, Android & Apple
XTB demo account
4 weeks trading with £100k virtual funds. Try XTB
 XTB CEO Interview
First and foremost is the customer service. Many brokers in our space are low touch, relying on automated systems to serve clients. That's not the XTB way. We go out of our way to ensure the client feels fully supported in their journey with dedicated account managers, 24hr customer service, an open-door policy at every one of our branches, in house education and much more.
XTB Expert Review
When we do broker reviews, we talk to the people at the brokerages themselves. The Good Money Guide is all about providing balanced opinion on brokers. In particular what makes them stand out from their competitors.
So, as we are based in London, XTB, has always been on the peripherals because they are HQ'd and listed in Poland. As such we never really paid them much attention. However, we opened an account, put a few quid in and had a little play about, we also spoke to Josh Raymond, one of the directors who very kindly highlighted some unique features.
Over the course of a 15-minute skype conversation, Josh took use through some of the key features on the platform. You can find out more about XTB from the CEO Omar Arnout or why Josh joined in the interview we did with him here. I would have suggested we meet in person to go through it. But, last time I was due to meet Josh for a coffee in Canary Wharf, he forgot, and didn't turn up. I can, however, recommend Notes for a bit of people watching.
Anyway, here's our review of some of the key features that XTB has to offer and what makes them stand out. But most importantly, what makes XTB a viable alternative to the big hitters IG and CMC.
You can build your own basket of assets on XTB Xstation5
XTB have this excellent tool where you can build your own basket of stocks, FX pairs, commodities and cryptocurrencies. What this means is that if you trade in pairs, or arbitrage markets, or want to build your own sub sector within a sector you can add them to a basket and trade them in one go.
It's a great time-saving tool for trading multiple assets. You can also see in the basket creator a nice weighting for each asset and amend the contract size and allocation accordingly.
Get platform integrated news, analysis and trading tips from banks
Most brokers have news, technical analysis, economic announcements and fundamental data. Most even have RanSquark (where your computer shouts at you every time there is a market figure), but XTB also has integrated bank recommendations. Which are presented with a chart, I only mention this because so many tips are not presented in this way and as such largely ignored because it's too much effort to look for a chart and then go back to the tip.
The below comes from Thomson Reuters IFR Markets on the XTB news tab. You'll have to make up your own mind if bank tips are actually any good. For the most case, you won't be in line with the analyst's investment objectives or timescales, but they do provide good stimulus for trading ides none the less.
See a post-trade analysis of where you win and lose
This is quite a nifty feature and I think only SaxoTraderGo has a similarly well-presented feature.
In your account settings, you can see a recap of your previous trades. This gives a very visual representation of which trades you make and lose money on.
This is a really interesting feature because as we all know it's hard to make money trading. But oddly enough it's not that hard to pick winners.
Picking on Josh again, we highlighted an article he wrote (The truth about whether trading is actually winnable) when he was at City Index (way back in 2014) showing that the profitable trades were around 60%. It's just that the losses were larger than the profits. Which suggests, that it is post-trading strategy that is the issue. Not picking trades. So, by using this section to evaluate which trades you most frequently win on you should be able to improve your overall trading strategy.
Change the base currency of your trades on the deal ticket
This may not seem like a big deal on the surface, but it's actually a really nice feature. One thing traders never really take into account when trading international markets is currency exposure.
Even when trading Forex, traders tend to just look at what is happening on the chart and not the overall economic climate. Trading profits are hugely affected by currency exposure and in some cases can wipe out profits. Also, as tight as deliverable foreign exchange rates are becoming they are still always never below 0.5%.
So if you are in the UK with GBP on account and trading US products your P&L will be in USD. This will then have to be converted into GBP before you can withdraw (unless you want to be at the mercy of your banks tourists rates (which you don't)).
But, with XTB you can trade cash indices in GBP. So you don't have to factor in what the USD is doing as well.
XTB has one of the widest ranges of cryptocurrency crosses available to trade
You will, of course, already have read our previous article XTB launches bid to become Binance of the Crypto CFD Trading space by XTB analysts David Cheetham so will know about XTBs broad range of crypto products.
But what makes this interesting is that whilst cryptocurrencies on their own are mega volatile, you can arbitrage between two. Or, even, if you use the basket setting we mentioned earlier you can trade a whole bunch of cryptos in one go.
It's a handy feature if you want to mitigate some of the risk and trade a diverse portfolio of cryptos. A bit like an ETF.
Get an instant macro market overview with grid charts.
When I first started off as a stockbroker many decades ago we used this pricing system called QTS. It's long gone now, but it had this great feature where you could get a grid view of a market with a single click. It was a great default view so you can instantly see what was going up or down without having to have multiple screens up.
I know you can set this up manually on most other brokers, but other than CMC, I don't think it's that easy anywhere else. XTB, have a really nice feature where you can see all your open charts as a grid. A very handy visual overview of what is going on.
Plus, if you've got a pending order you can see the levels on the chart. When I took the below screenshot I had a working stop entry in US500 (top right).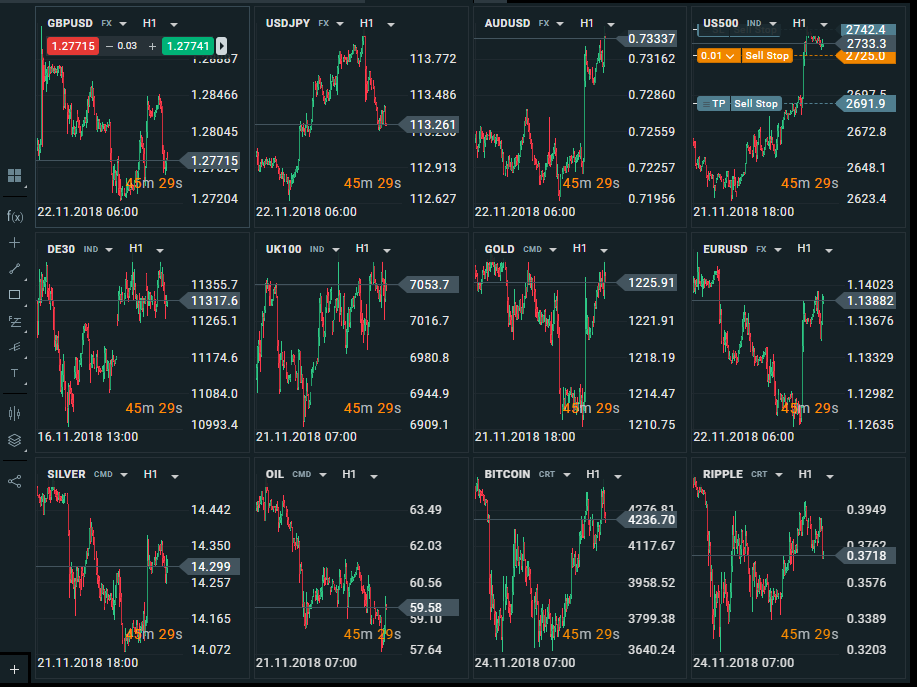 Trade from the charts with stops entries, limits and stop losses
A lot of other brokers let you trade from the charts. In fact, last week when we did a video demo of Spreadex's platform where we highlighted that you can move your stops from the chart.
Which is an almost essential feature. Because let's face it you either place stops at support and resistance levels or base them on how much you want to win or lose. So it's quite nice to set your P&L limits then move your orders based on what the chart looks like.
However, what is unique to XTB (as far as I know) is the ability to place stop entries, stop losses and limits straight onto the chart.
The first click is where you want to buy, second your stop loss and third your limit. You basically draw your trade on the chart and it is created in the dealing ticket.
Close all, profitable or losing trades in one go with xstation5
This is a nice feature to end off our XTB review. When you are done for the day, or popping off to the shops you can select what trades you want to close.
It's really annoying when you have to click on twenty different trades to close them out when you want to be flat. So on the XTB "Open Positions" tab you can choose to close either all your trades or just the duds that are losing. Or, you can bank your profits by closing all the winners and leave your losers to either get stopped or reverse. But I shall leave it to you to decide if that is a sensible trading strategy.
There are a few other bits too like adding addition sub-accountants or MT4 accounts through the My Account section, trading from an Apple Watch, educations videos and content. Plus you can set up hotkeys and create shortcuts with the F keys.
XTB Trading Platform Overview Screenshot
Latest XTB News, Views & Reviews